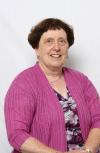 Imelda Darwish
Born: September 29th, 1950
Passed on: September 29th, 2020
Dorothy "Imelda" Darwish (nee Grant) of Somerset passed away on her 70th birthday on September 29th. Predeceased by her husband Adel, her legacy will live on in her sons Osama (Nadia), Shireef, and Hanni (Katie) as well as her wonderful grandchildren Sofia, Zaydan, Zarah, and Miriam. She will be dearly missed by her siblings Maureen (John) O'Neill, Elinor (Jim) Clarke, Rosanne, Sheila, Jeannette (Tom) Clarke, Bill (Lynn), Jimmy, and Marguerite (Ken) Carew.
Imelda was born
en caul
, at home on Bell Island, Newfoundland, the fifth of nine children. She attended St. Edwards Academy before earning her teaching certificate from Littledale College in Saint John's where she taught for two years. Answering the call to serve those in need, Imelda embarked on a career in nursing at St. Clare's Mercy Hospital School of Nursing, graduating in 1973. She met her late husband Adel, a charismatic Egyptian psychiatric social worker, while the two were working at Charles Memorial Hospital in St. Anthony, Newfoundland. They were married in Egypt on May 19th, 1977 and had three boys (still "the youngsters" well into their thirties) before making Somerset their home in 1982. Osama, Shireef and Hanni were her "gift to the world", her pride and joy, her adoring sons. Her love for her grandchildren, Sofia, Zaydan, Miriam, and Zarah, was boundless and she delighted in their every move.
Imelda became a vital member of the Kings Regional Rehabilitation Centre in 1987, working on the acute care unit, the Beacon unit, and the psychogeriatric unit. The care, levity, and dignity she provided to her beloved clients at the Rehabilitation Centre anchored her deep commitment to help those most in need, and her church community strengthened her faith in a profoundly human way. Imelda was kindness and generosity made flesh. Always looking outward toward others, she brought joy, compassion, and her riotous humour wherever she went. Imelda would surprise you with a funny song she wrote for your birthday, deliver a basket of Christmas goodies to your door, and quietly help anyone she knew who was having a hard time. Imelda embodied the love and charity of her faith, living out her ideals with great humility and courage. God loves a cheerful giver, and Imelda is surely loved by God and by all of those who had the great fortune to know her. Her laughter will ring joyously in our hearts forevermore.
The Darwish family would like to thank all of the many friends and family who helped to support her during her illness, along with Bryce Johnstone and the Middleton Funeral Home. A private funeral service will be held at St Anthony's Church in Berwick. Donations can be made to the
Valley Hospice Foundation
or to
St Anthony's Church
.
The private service will be held on
Saturday October 3, 2020 at 2:00 pm
at the St Anthony Church at 120 Mill Street in Berwick. If you wish to attend the service, please send an email to
imelda.darwishRSVP@gmail.com
. Please include the names of each person as well as a contact phone number in case we need to reach you. We will then put your name on the guest list. As there is limited seating due to COVID-19, we will do our best to accommodate everyone who wants to attend. You may also watch the service online using this link:
https://www.middletonfuneralhome.com/page/livestream